| | | | |
| --- | --- | --- | --- |
| | <! a href="blank.htm" STYLE="text-decoration: none;"> | <! a href="blank.htm" STYLE="text-decoration: none;"> | |
One-year warranty, bargain price.

Attitude Gyro (AG, Gyro Horizon), Directional Gyro (DG, Gyro Compass, Heading Gyro), Turn & Bank, Turn & Slip, Turn Coordinator, Autopilot Gyro, Wing Leveler Gyro, Horizontal Situation Indicator (HSI), Flight Director (FD) head. Altimeter, Airspeed, Rate-of-Climb, Vertical Speed, Sensitive Altimeter, Manifold Pressure, military-style AN gyros, safer than a glass cockpit.

Gyro rotor overhaul, service, repair,

Beech Bonanza, Baron, Cessna 172 Skyhawk, 210 Centurion, Skywagon 206, 208 Caravan, 310, 337 Skymaster, 340, 414 and 421. Piper Cherokee, Mooney, Aero Commander, Commander, American, Grumman-American, Tiger, Bellanca, Stinson, Maule, Aviat, ACA, Aerostar, Columbia, Cirrus, SOCATA, Navion, Luscombe, Stearman.

When Your

LIFE

Is On the Line,

Have

Our

QUALITY

in Your Cockpit.

When Your Life is On the Line
Have Our Craftsmanship in Your Cockpit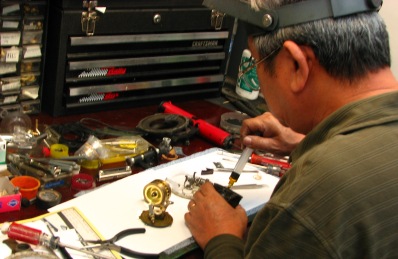 A.Q.I. is READY
for YOUR project!
We
REPAIR or REPLACE
your
GYRO or PRESSURE
INSTRUMENT

From
repainting a dial
to
remanufacturing a whole panel,
we're ready for you!
...with the BEST resources:

an EXPERIENCED TEAM of FAA certified technicians, with a combined experience of several decades.

...and...

a SUITE of well-equipped, modern instrument labs
(FAA Repair Station
License#A2QR419J)

...and...

SigmaTek
Edo-Aire
A.I.M.
R.C. Allen
Aeritalia
Sperry
Bendix/King
AN-style
Jack & Heintz
Gen. Design
Brittain
E.G.C.
B.F.Goodrich
Kollsman
United
Pioneer
Garwin
U.S. Gauge
the TOP BRANDS of aircraft
gyro & pressure instruments,

...and...

MASSIVE, DIVERSE INVENTORY: hundreds of models of aircraft instruments for general aviation

...and...

OVER 20 YEARS of trusted, reliable service to the general aviation industry, and more...
... AIRCRAFT QUALITY INSTRUMENTS
is THE answer
to your aircraft instrument needs!
Aircraft Quality Instruments, INC.

2649 S. Custer
Wichita, KS 67217
USA

Toll Free (800) 942-9938
Local (316) 942-9933
FAX (316) 942-9975

<! ------------- BOTTOM menu table -----------> <! ------------- end of BOTTOM menu table ----------->